DESIGN TEMPLE – THE EDGE OF ELEGANCE
2017 | MUMBAI
Design Temple undertakes a major rebranding exercise to focus its resources and expand its footprint in luxurious home decor.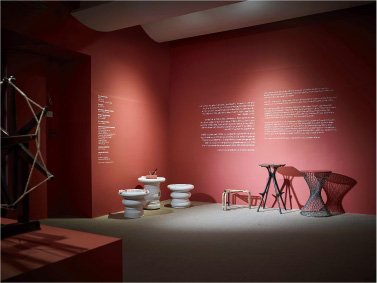 DESIGN – THE INDIA STORY
2017 | CHHATRAPATI SHIVAJI MAHARAJ VASTU SANGRAHLAYA (CSMVS), MUMBAI
Design Temple's tableware and furniture including Mohenjodaro, Pillar Pods and the Damroo series were showed at Design: The India Story. Held at India's foremost museum, CSMVS, the exhibit was a first of its kind documenting the landscape of domestic design in the country. Through 30 days the show directly impacted more than 30000 visitors including students, design professionals, industry leaders and audiences from all walks of life.
WALLSPEAK
2016 | DESIGN TEMPLE COLABA, MUMBAI
Wallspeak was conceived to commence a retail collaboration with Nilaya Wallcoverings by Asian Paints. The exhibit was the first of several such events that explored wall design and surfaces as canvasses for self-expression. Wallspeak contemplated the future and recent history of popular wall art. The show opened to a swish reception, where HNIs and opinion-makers spilled the beans on, "What does your wall say about you?"
EAT, DRINK, MEET & PLAY
2014 | CLARION HOTEL, STOCKHOLM
Eat, Drink, Meet & Play was the result of a unique tie-up with the Indian Embassy in Sweden and Clarion Hotels (Stockholm). The latter's lobby was completely transformed with an interactive installation of Design Temple's Damroo series – where furniture was arranged in small clusters and guests were encouraged to spontaneously move around the seating according to their need.
NEW INDIA DESIGNSCAPE
2014 | TRIENNALE MUSEUM, MILAN
Design Temple's Urban Nostalgia won the prestigious EDIDA Award and the collection's earthenware rendition was selected to be displayed at the Triennale Museum – one of Italy's best-acclaimed design authorities.
MAISON & OBJET
2014 | MAISON & OBJET, PARIS
Design Temple began showing at trade fairs such as India Design ID (Delhi) and Maison & Objet (Paris). The latter is an international platform, which brings together more than 80000 professionals – and over the years Design Temple has launched multiple product lines through it, including the Pillar Pods and the Damroo series to list a couple.
EROGENIUS
2013 | NATURE MORTE GALLERY, NEW DELHI
Design Temple presented Erogenius at Nature Morte Gallery through a unique format that combined exhibition curation with retail. Inspired by ancient Indian treatises, Erogenius explored the ebb and flow of sexuality in India and interrogated contemporary views on the subject.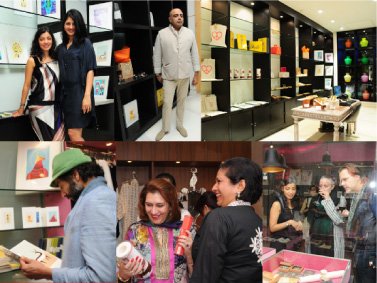 POP-UP STORES
2012 TO 2011 | PARK HOTELS, BENGALURU, CHENNAI, DELHi, KOLKATA
This year-long collaboration was devised with India's premier chain of design hotels at a time when flash retailing was unheard of. In an arrangement exclusive to Design Temple, Park hotels in different cities across India played host to pop-up stores by the brand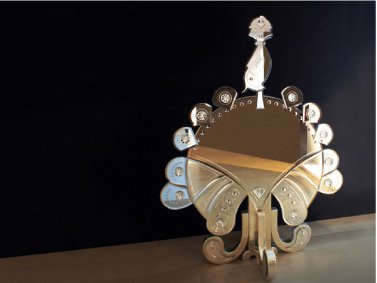 WALLPAPER* HANDMADE
2011 | WALLPAPER* HANDMADE, MILAN
The Peacock Vanity Mirror was shown during Salone del Mobile, at Wallpaper* Handmade. Organised by UK-based Wallpaper*, the project commissioned collaborative works that brought together some of the world's leading designers and craftsmen. For Peacock Vanity Mirror, Design Temple worked with Leandro Castelao, an Argentinean graphic artist, building from his illustrations to create a self-standing mirror that was handcrafted by Delhi-based artisans.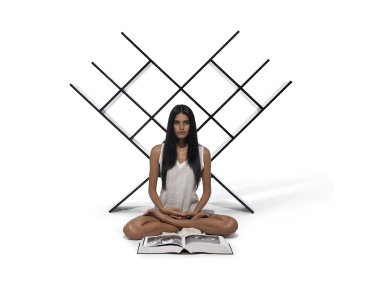 VITA URBANA
2011 | SALONE DEL MOBILE, MILAN
Design Temple launched its furniture line at Salone del Mobile, the largest trade fair for furniture in the world. The inaugural collection, Vita Urbana, was presented through a video installation and consisted of the Holy Book Shelf, Banana Table, Bed of Roses and Paisley Lounger – designs that received patents in US and Europe.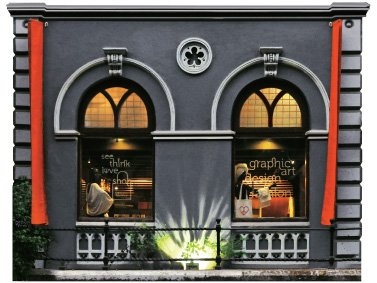 DESIGN TEMPLE COLABA
2011 | MUMBAI
Design Temple Colaba was launched as a much-needed playground for contemporary Indian design. Over a 6 year run, this experential space hosted talks and events such as Urban Indian Nest and Sense & Sensuality, spearheaded multiple creative collaborations and housed a small section of cool collectibles from Design Temple.
ANIMANIA
2010 | GOOD EARTH, MUMBAI & NEW DELHI
From its early years in retail Design Temple collaborated with the country's much-loved homeware brand, Good Earth – finding presence in their stores across New Delhi and Mumbai. Animania marked the high point of this longstanding tie-up. To house the collection and connect with audiences, Good Earth's stores were transformed such that they simultaneously functioned as exhibit and retail spaces.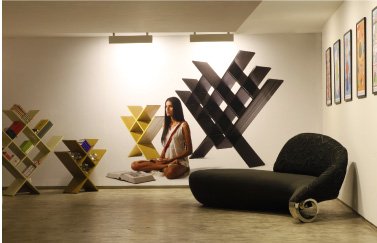 DECADEIN DESIGN
2009 | BODHI GALLERY, MUMBAI
The most popular products by Design Temple were provided platform in a retrospective show that celebrated 10 years of the brand. In its concept and scale, DecadeIn Design was a novelty for its time. The exhibit spanned both floors of the expansive Bodhi Gallery and was attended by industry leaders from the fields of advertising, media, design and the corporate world.
INDIA NOW
2007 | V&A MUSEUM
Design Temple's witty, whimsical and much-loved classics such as the Cheerharan Toilet Paper were showed under the Design section of India Now, an exhibit commissioned by the V&A Museum. India Now articulated the soft powers of the young country through the categories of Fashion, Cuisine, Film, Information Technology and Design.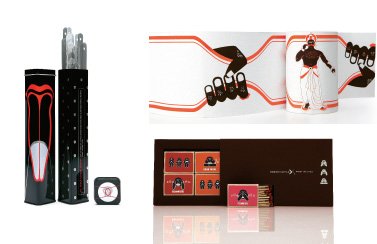 EDITION ONE
2006 | MUMBAI
Design Temple's inaugural product line made it one of the early pioneers of witty and whimsical India-inspired products – introducing an indigenous design language that was speedily embraced by audiences and soon proliferated other brands. Edition One adapted the potential of graphic design to an assortment of everyday accessories – opening up a market that was otherwise focused on fashion, interiors and other traditional avenues. It garnered international press attention and was sold through Conran
hShops across the globe and 10 Corso Como.