The Future of Design Thinking | Seminar
Goethe Institut, Mumbai 2017
Held in conjunction with Ideas Through Time, industry leaders Priya Paul (Hotelier), Bijoy Jain (Architect), Anita Lal (Entrepreneur), Sandeep Sangaru (Product Designer) and Ektaa Aggarwal (Human-centred Designer) shared their experience with 8 concepts intrinsic to the Indian Approach – and evaluated their potential in shaping the future of design globally.
The seminar was convened by Sudhir Bhatia (Brand Strategist) and Divya Thakur (Design Practitioner); and co-hosted with Avid Learning. Watch the seminar here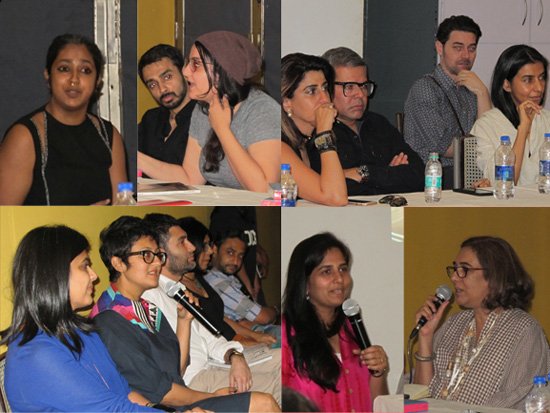 Design Debate | Open Forum
CSMVS, Mumbai 2017
Design professionals and industry specialists discussed, deliberated and debated their opinion on current matters of design. The forum was moderated by Pramiti Madhavji (Editorial & Content Director, Elle Décor, India) and Aparna Piramal Raje (Columnist and Author) and closed with the book launch of SAR: The Essence of Indian Design by Phaidon Press.
The program was co-hosted with culture experts Avid Learning.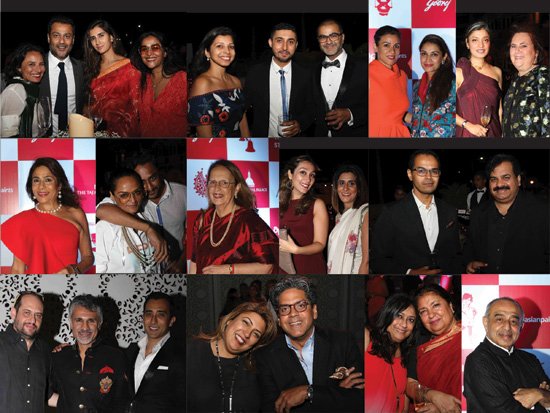 Celebratory Cocktail | Party
The Taj Mahal Palace, Mumbai 2017
Hosted at the Chambers Terrace of Taj Mahal Palace, Mumbai, the evening was attended by opinion-makers and industry influencers to celebrate the success of Design: The India Story.
Space, Style and Self | Talk
Premchand Roychand Gallery, Mumbai 2017
Industry specialists Abigail McGowan (Professor of History, University of Vermont, USA) and Greg Foster (Editor, Architectural Digest, India) discussed the evolution of Indian interiors from mid-century Modern to contemporary times.
The afternoon was co-hosted with Avid Learning.
Intersections | Salon
Design Temple Colaba, Mumbai 2016
Intersections was hosted by Avid Learning, Nilaya and yours truly to celebrate the preview of Water Works. It was an animated evening with three multi-talented minds, ShahidDatawala (Photographer, Designer), ShonanPurieTrehan (Architect) and Sarah Sham (Entrepreneur, Interior Designer), exploring new synergies between art, design and spaces.
The talk opened up to a free-flowing Q&A session – and wine.
Watch the talk here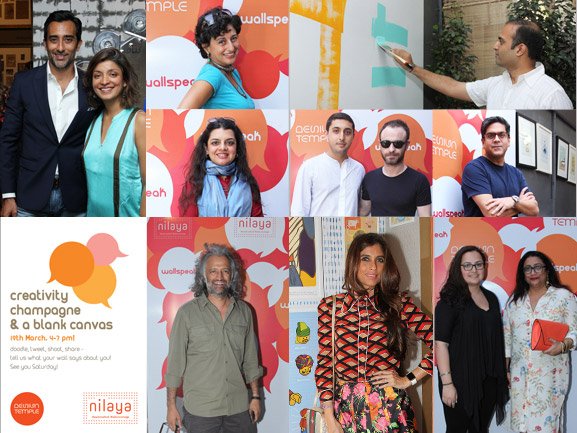 Wallspeak | Preview
Design Temple Colaba, Mumbai 2016
'What does your wall say about you?' – We asked thought leaders of the industry to share their favourite wall stories. And, the creative ones could even doodle their answers onto a blank canvas. Wallspeak, an exhibition exploring walls as mediums of self-expression, celebrated our collaboration with Nilaya.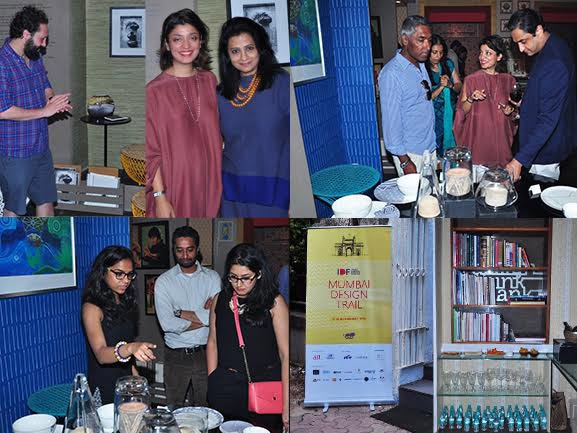 Love Design | Design Trail
Design Temple Colaba, Mumbai
2016
As part of the Mumbai Design Trail by India Design Forum (IDF), over wine and cheese, design lovers were welcomed to experience the store's contemporary prints, posters and home accents.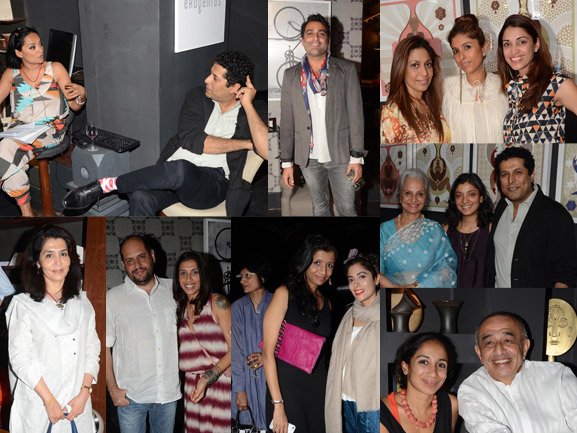 Design Salon | Talk
Design Temple Colaba, Mumbai 13th to 17th March 2013
Led by historian Dr. NamanAhuja from Jawaharlal Nehru University (New Delhi) and Bandana Tewari, Fashion Features Editor at Vogue India, the evening's conversation explored spirituality and sexuality in the Indian context.
Also, on showcase was Swiss artist Ruth Buck's video installation 'The March' – in association with Pro Helvetia, Swiss Arts Council.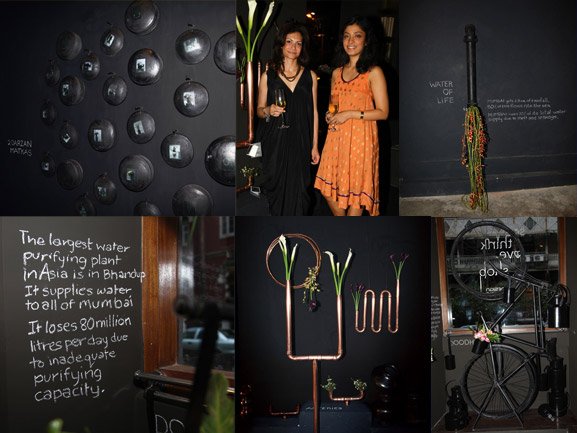 Water Bearers | Collaboration
Design Temple Colaba, Mumbai 2012
To create awareness about the need to preserve water, we partnered with floral artist, Libellule. Flowers from exquisite destinations like Argentina and Holland elevated everyday water-bearing objects to the state of structural art.
The Park Hotels | Collaboration
Bengaluru, Chennai, Delhi, Kolkata 2012
The country's premier chain of design hotels played host to Design Temple pop-up stores across India.
Bombay Bohemia | Collaboration
Design Temple Colaba, Mumbai 2011
Bombay Bohemia was an urban Indian experiment with Obataimu, a Mumbai-based concept store. The collection fused traditional styles like the lungi, sari, salwar and blouse with modern silhouettes. Understated, utilitarian and unisex – designs emphasized textural play of different fabrics.
Hindustan Hipsters | Collaboration
Design Temple Colaba, Mumbai 2011
The Hindustan Hipsters collection found resonance in collaborations with paper, ink, and textiles. On view were exquisite book sculptures created from our 'Parrot Diaries' by Banoo Batliboi, fashion accessories crafted from handspun silk and khadi by Shubh and Emmanuel Balayer's Indo-French rendition of Vanity, inspired by the 'Peacock Mirror'.
The collection opened to a Bloggers' Brunch (a first of its kind at the time) in association with Belvedere.
Animania + Wildlife SOS | Charity
Gallery BMB, Mumbai Lodi – The Garden Restaurant, New Delhi 2010
Significant proceeds from the Animania Collection were forwarded to Wildlife SOS, a non-profit organization for animal welfare.
View Exhibition
Animania Art Classes | Workshop
Gallery BMB, Mumbai Lodi – The Garden Restaurant, New Delhi 2010
Argentinean graphic artists, Leandro Castelao and Christian Montenegro, conducted the workshop. The effort was to help children build an emotional connect with animals while exposing them to concepts of design and illustration. In Mumbai, we associated with The Akanksha Foundation (a non-profit organization underprivileged children) and in New Delhi with Salaam Balaak Trust that works to create professional opportunities for street and working children.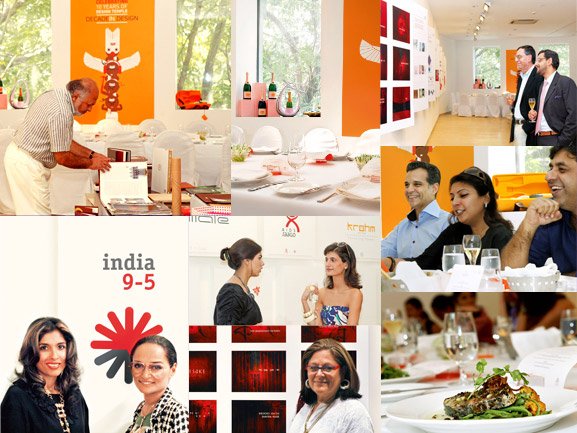 Veuve Clicquot Brunch | Influencers Meet
Bodhi Art Gallery, Mumbai 2009
Our 10th anniversary brought together A-listers from various industries. The occasion was graced by the likes of Anil Chopra (Former CEO and MD, Lakmé Lever Ltd.), Gaurav Bhatia (Marketing Director, Moët Hennessy India), Farah Oomerbhoy (Author), and Mohammed Khan (Co-Founder, Rediffusion) to name a few.